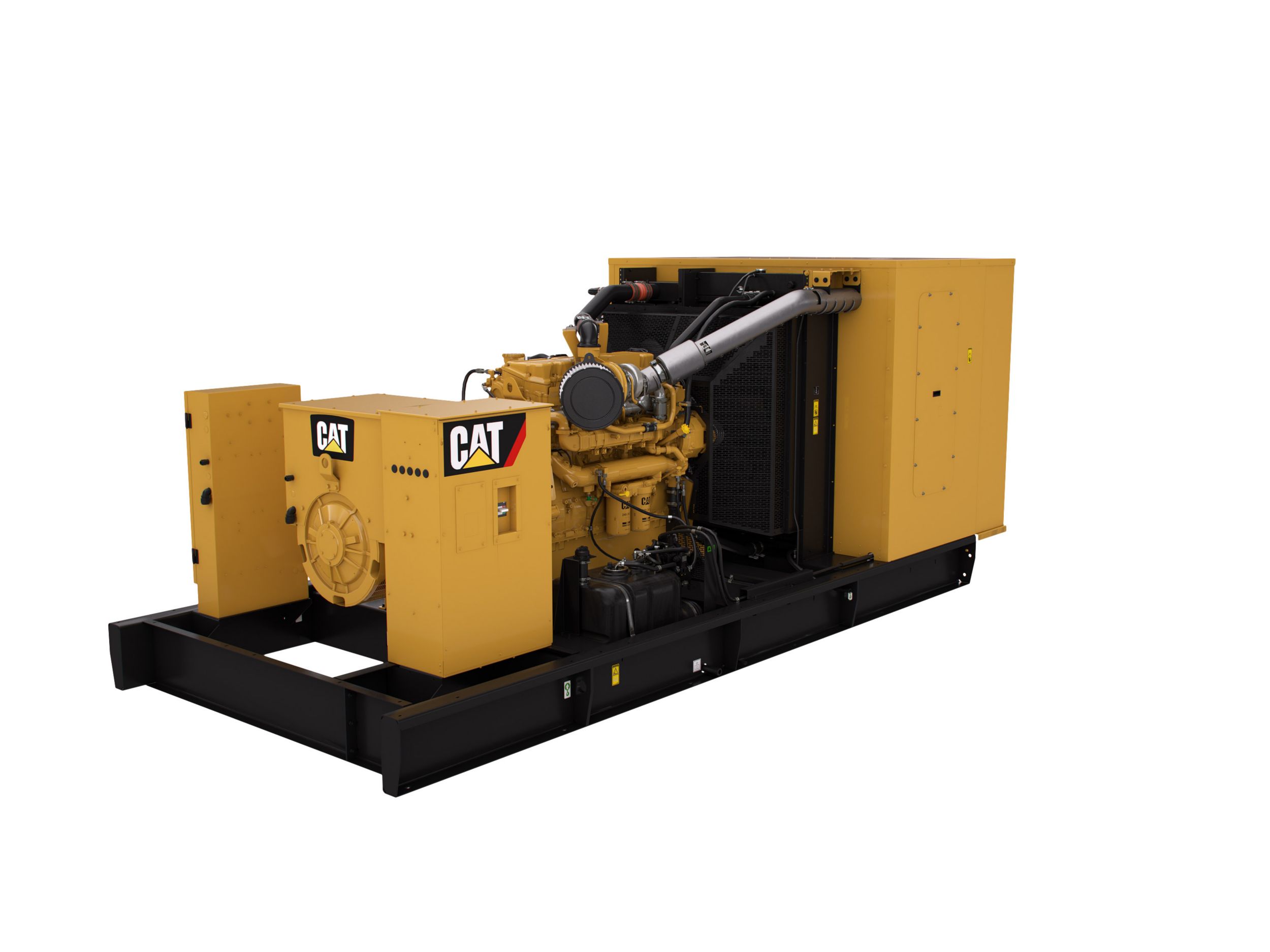 C18 Generator Set
Producing reliable power from 455 ekW to 500 ekW at 60 Hz, our C18 diesel generator sets are made to meet your standby and prime applications. The engines are certified to the US EPA Tier 4 Final emissions levels. Each is designed to meet ISO 8528-5 transient response requirements and built to accept 100 percent rated load in one step. Seismic certification is also available for these models, so you can deliver power despite disturbances. Our integrated control system, including ATS and switchgear ensure a consistent power supply and connection to your fleet through on-site and remote monitoring options. We offer a wide range of EMCP 4 control panel options, with a simple screen display, consolidating all your management and diagnostics tools. The EMCP 4.4 controller provides on package paralleling capability, allowing you to use multiple generator sets to power your facility, providing added capacity and redundancy. We've made our generator sets adaptable to your demands with a broad range of accessories and bolt-on system expansion attachments. Find flexible packaging to fit your spatial restrictions and environmental conditions. Even choose UL 2200 and CSA certified package options for added safety.
Standard Equipment
Exhaust System
Fuel System
Primary fuel filter w/integral water separator & secondary filter
Fuel cooler
Fuel priming pump
Flexible fuel lines
Engine fuel transfer pump
Governing System
Cat Electronic Governor (ADEM A4)
Lube System
Oil cooler
Lubricating oil
Oil filter and dipstick
Oil drain lines with valve; piped to edge of base
Fumes disposal; piped to front of radiator
Protection System
Safety shutoffs for: Higher water temperature - Overspeed - Low oil pressure
Cooling System
Coolant drain line with valve; terminated on edge of base
Fan and belt guards
Coolant Level Sensor
Thermostats and housing, full open temperature 92 deg C (198 deg F)
Coolant level sight gauge.
Jacket water pump, gear driven, centrifugal
Caterpillar Extended Life Coolant
Starting/Charging
24-volt electric starting motor
24V, 45 amp charging alternator.
General
Paint, Caterpillar yellow
Vibration damper
Parts book
Operation and maintenance manual pack and OMM Storage Compartment
Control System
EMCP 4.2
Controls include: Run / auto / stop control - Speed adjust - Voltage adjust - Engine cycle crank - Emergency stop pushbutton
Digital indication for: rpm - DC volts - operating hours - Oil pressure (psi, kPa or bar) - Coolant temperature (C or F) - Volts (L-L & L-N), frequency (Hz) - Amps (per phase & average) - Power factor (per phase & average) - kW (per phase & average) - kVA (per phase & average) - kVAr (per phase and average) - kW-hr (total) - kVAr-hr (total)
Warning / Shutdowns with common LED indication of shutdowns for: Low oil pressure - high coolant temperature - Overspeed - Emergency stop - Failure to start (overcrank) - Low coolant temperature - Low coolant level
Programmable protective relaying functions: Generator phase sequence - Over / Under voltage (27/59) - Over / Under frequency (81 o/u) - Overcurrent (50/51)
Programmable Input / Output: 2 programmable digital inputs - 2 programmable relay outputs (Form A) - 2 programmable relay outputs (Form C)
Communications: Customer data link (RS485 Modbus RTu) - Serial annunciator module data link for local and remote annunciator IVR - Integrated Voltage Regulation (Digital) - EM10 Excitation Module
Control panel mounting location
Local annunciator
Remote annunciators
Control panel options: Dust proof control panel - volt free contact - Device server - Ground fault relay
Optional external analog input
Breaker box mounting location
Suitable for use as service equipment label
Separation plate
Generator and Attachments
Brushless, self-excited 2/3 pitch, random wound.
IP23 Protection
Insulation Class H and temperature rise
Power center, IP22 bottom cable entry
Segregated low voltage (AC/DC) wiring panel
AREP generator
CIP - generators
Air Inlet System
Single element air filter
Air cleaner - Single element
Air cleaner - Heavy duty
Extended Service Coverage
Silver, Gold and Platinum coverage
Circuit breakers
Optional Equipment
Control System
EMCP 4.4
Control panel mounting
Local annunciator
Remote annunciators
Dust proof control panel
Volt free contact
Device server
Ground fault relay
Optional external analog input
Breaker box mounting location
Separation plate
Remote E-stop button
Generators and Attachments
AREP Generator
CIP generators
Generator mounting and duct plate
Space heater
Air Inlet System
Single element air filter
Dual element air cleaner
Certifications
IBC certification wind load
Certificate of compliance
Circuit breakers
Package mounted single circuit breakers
Motorized single circuit breaker
Dual breakers first circuit breaker (CB1) LS/I package mounted
Dual breakers first circuit breaker (CB2) LS/I package mounted
Auxiliary contacts
Neutral bars
Current transformers
Power cables
Cooling System
Standard radiator
Aftertreatment guard
Enclosures
Sound attenuated enclosures
Exhaust System
Exhaust flexible fittings
Flange kits
Fuel System
Generator Attachments
Permanent magnet generator
Mounting System
Standard base Wide
Optional CB shroud
Locking fuel fill
5 gallon spill containment
Overfill prevention valve
Starting / Charging System
10 Amp dual battery charger
Battery disconnect switch
Jacket water heater
Shore power control group
TESTS
PGS test report @ 1.0 power factor
PGS test report @ 0.8 power factor
Generator test report
4 Hour factory test (un-witnessed)