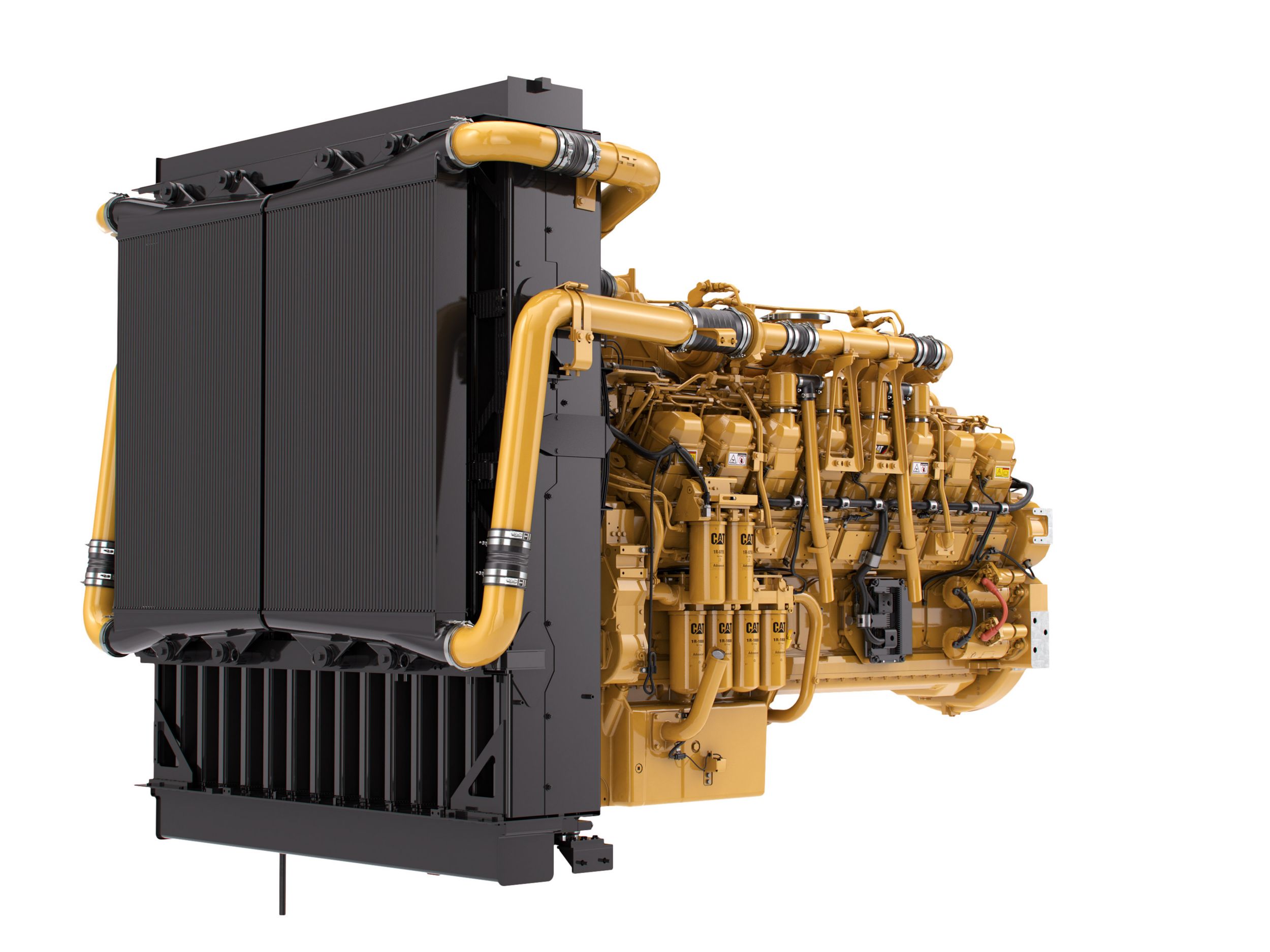 Cat® 3516C Industrial Power Unit
The Cat® 3516C Industrial Power Unit is offered at 1566 bkW (2100 bhp) @ 1750 rpm and is U.S. EPA Tier 2 Nonroad Equivalent. Conveniently pre-configured for a wide range of applications, the 3516C Industrial Power Unit is a complete power package containing a radiator, flywheel, alternator and alternator wiring completely pre-assembled for fast, straightforward installation in a number of OEM, customer and packager applications. These fuel efficient units are ready made for irrigation, industrial, mining and other pump applications.
Standard Equipment
Air Inlet System
Aftercooler core, corrosion resistant coated (air side)
Air cleaner. Regular duty, dry, panel type with service indicators, turbocharger, jacket water aftercooled.
Turbocharger, rear mounted
Jacket water aftercooled
Control System
Governor, RH, 3161 with self contained synthetic oil sump
Air-fuel ratio control
Mechanical speed control, without torque control
Governor control
Positive locking
Cooling System
Thermostats and housing
Jacket water pump, centrifugal
Exhaust System
Flywheels and Flywheel Housing
SAE No. 00 flywheel
183 flywheel teeth
SAE No. 00 flywheel housing
Fuel System
Fuel filter, with service indicators, cartridge type with RH service
Fuel transfer pump
Instrumentation
Instrument Panel, RH
Engine oil pressure gauge
Fuel pressure gauge
Oil filter differential gauge
Jacket water temperature gauge
Service meter, electric
Tachometer
Lube System
Crankcase breather, top mounted
Oil cooler
Oil filler
Oil dipstick
Oil pump
Oil filter, cartridge type with RH service
Shallow oil pan
Mounting System
Rails, mounting, engine length, 254 mm (10 in), industrial-type, C-channel.
Power Take Off
Accessory drive, upper RH
Front housing, single sided
Protection System
Junction box
Manual shutoff, RH
Safety shutoff protection, energized to shutdown
Low oil pressure, low idle 69 kPa (10 psi); high idle 207 kPa (30 psi)
Water temperature
Overspeed
3161 governor solenoid energized to shutdown
Starting System
General
Vibration damper
Lifting eyes
Paint: Caterpillar yellow, with optional colors available at request
Optional Equipment