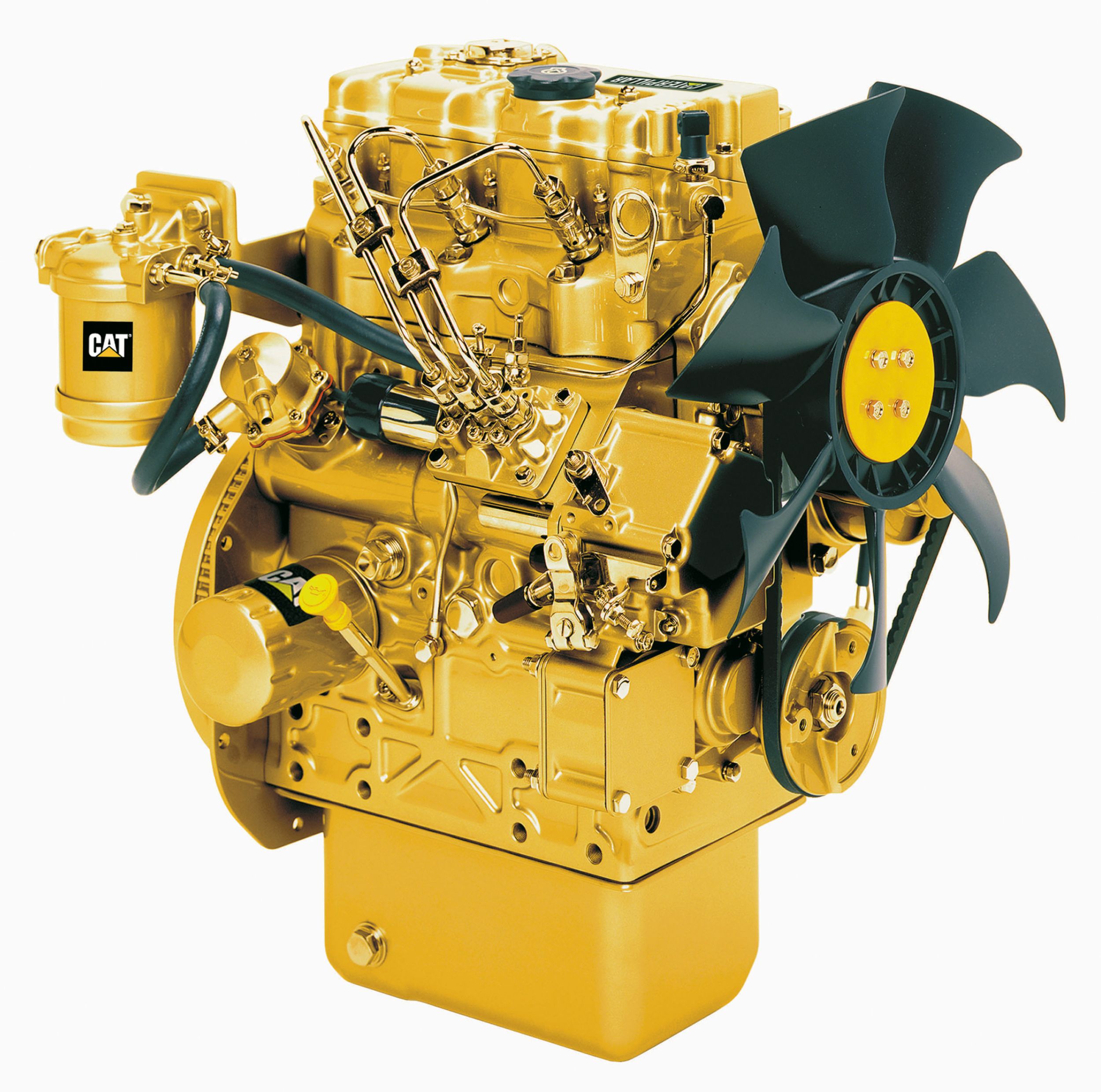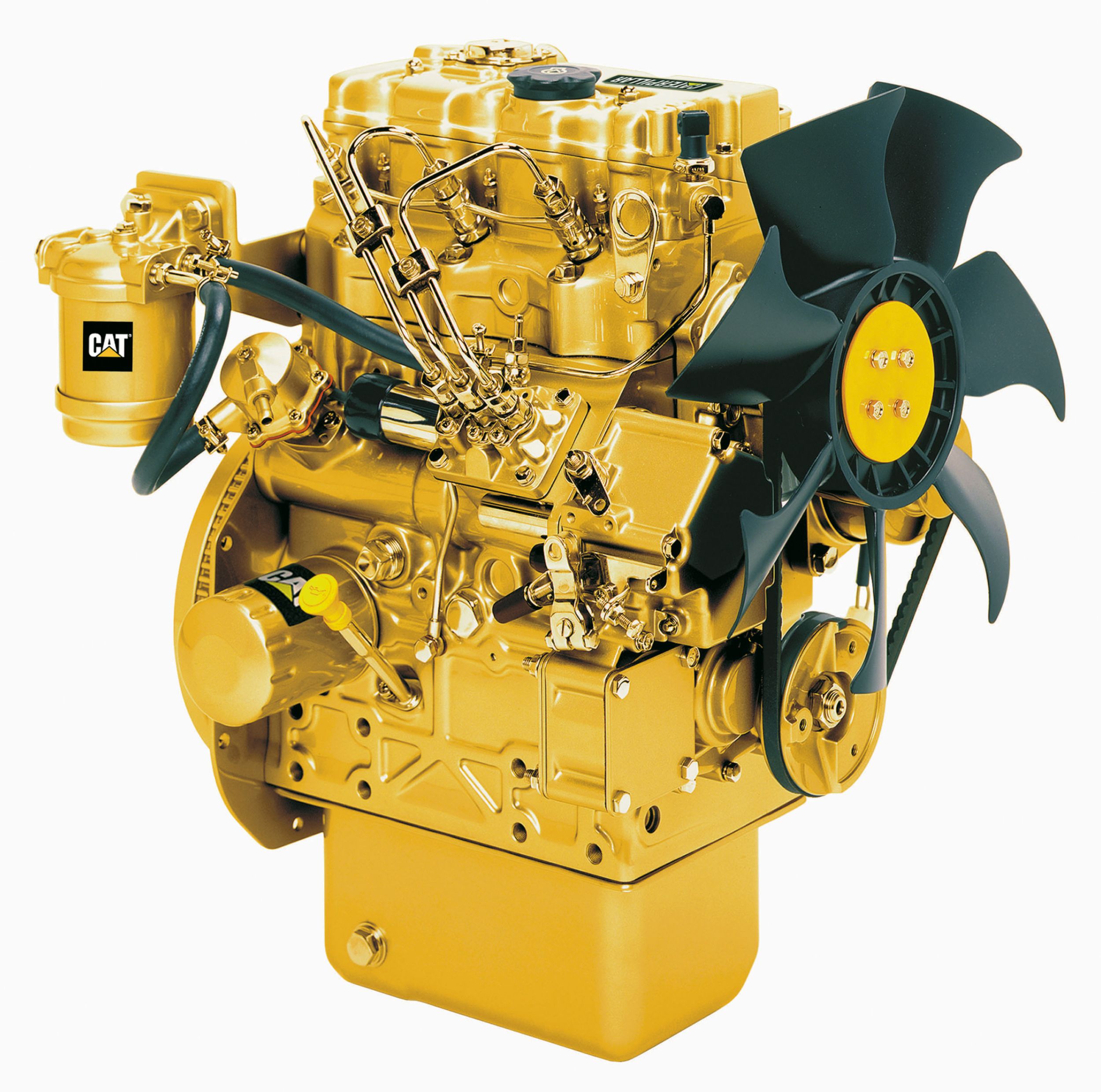 Specs Summary
Minimum Power
19.3 bhp (14.4 bkW)
Maximum Power
28.2 bhp (21 bkW)
Emissions
14.7-18.4 bkW (19.7-24.7 bhp) meet U.S. EPA Tier 4 Final. Other ratings available for Europe and other regions.
Frequency
2200-3400 rpm
Cat® C1.1 Diesel Engine
Cat® C1.1 Industrial Diesel Engines deliver impressive performance throughout a wide speed range with exceptional power density. Their ultra-compact package size and extensive choice of options ensures these engines are ideal for a wide range of small, off road applications. Single-side servicing improves ease of maintenance and lowers overall owner operating costs. Industries and applications powered by C1.1 engines include: Aircraft Ground Support, Auxiliary Power Units, Bore/Drill Rigs, Chippers/Grinders, Compactors/Rollers, Construction, Forestry, General Industrial, Material Handling, Mining, Mobile Earthmoving Equipment, Mobile Light Towers, Pumps, Trenchers, Underground Mining Equipment. C1.1 engines, with ratings: 14.4-18.4 bkW (19.3-24.7 bhp) @ 1800-2800 rpm, meet U.S. EPA Tier 4 Final emission standards. Ratings: 13.7-21.0 bkW (18.4-28.2 bhp) @ 2200-3000 rpm are available for Europe and, depending on applicable emission standards, may be introduced in other regulated areas. Nonroad engines less than 19 kW (25 hp) are not currently subject to EU emission standards. This information about Emissions describes the particular rating's emissions technology. For more information about emissions certification, please contact your local Cat dealer.
Power Rating
Minimum Power 19.3 bhp (14.4 bkW)
Maximum Power 28.2 bhp (21 bkW)
Frequency 2200-3400 rpm
Emission Standards
Emissions 14.7-18.4 bkW (19.7-24.7 bhp) meet U.S. EPA Tier 4 Final. Other ratings available for Europe and other regions.
General
Engine Configuration In-Line 3, 4-Stroke-Cycle Diesel
Bore 77 mm (3.03 in)
Stroke 81 mm (3.19 in)
Displacement 1.13 L (69 in³)
Aspiration Naturally Aspirated (NA)
Compression Ratio 23:1
Combustion System Indirect Injection
Rotation (from flywheel end) Counterclockwise
Cooling System Capacity 1.9 L (2 qt)
Lube System (refill) 3.4-4.4 L (3.6-4.6 qt)
Engine Dimensions (Approximate. Final dimensions dependent on selected options)
Length 491 mm (19.33 in)
Width 400 mm (15.74 in)
Height 576 mm (22.7 in)
Weight - Net Dry (Basic Operating Engine Without Optional Attachments) 87 kg (191 lb)
Aftertreatment Dimensions (Approximate. Final dimensions dependent on selected options)
PETU Dimensions (Tier 4 Final, Stage IV Only)
Standard Equipment
Air Inlet System
Inlet manifold with choice of inlets.
Control System
Alternator 12 volt 65 amp
Starter motor 12 volt
Glow plug starting aid
Cooling System
Belt-driven coolant pump
Coolant temperature switch
Flywheel and Flywheel Housing
SAE No. 6 1/2 flywheel
Choice of SAE No. 5 or standard backplate flywheel housing
U.S. EPA Tier 4 Final: Standard backplate flywheel housing and flatface flywheel
Fuel System
Fuel injection pump
Spin-on fuel filter
Lube System
Low profile oil pan
Spin-on lube oil filter
Lube oil pressure switch
Power Take Off (PTO)
Provision for Power Take Off (PTO)
General
Cast iron, engine block
Cast iron exhaust manifold--side outlet
Cold start capability to -20° C (-4° F)
Paint: Caterpillar yellow, with optional colors available at request
Optional Equipment