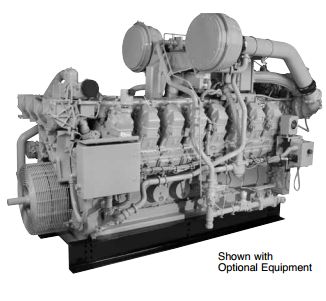 Cat® G3512, G3512B Industrial Gas Engine
The Cat® G3512 and G3512B Industrial Gas Engines are offered in the following ratings: 589-642 bkW (790-860 bhp) @ 1200 rpm and 749-772 bkW (1004-1035 bhp) @ 1400 rpm. These ratings are NSPS site compliant capable with customer-supplied aftertreatment. For specific emission information, please consult your local Cat Dealer.
Standard Equipment
Air Inlet System
Axial flow air cleaner
Cleanable
Single element canister type with service indicator
Control System
ADEM A3 with integrated electronic throttle control
CSA certified
Cooling System
Two-stage charge air cooling
Thermostats and housing
Gear-driven jacket and aftercooler water pump
Stainless steel aftercooler cores
Exhaust System
Dry exhaust manifolds
Exhaust outlet: 200 mm I.D.
Flywheels and Flywheel Housings
SAE No. 00 flywheel
SAE No. 00 flywheel housing
SAE standard rotation
Fuel System
7-50 psi gas supply
Electronic fuel metering valve
Gas pressure regulator, pivot valve operated
Ignition System
ADEM A3
Outdoor CSA certified
Lubrication System
Crankcase breather — top mounted
Oil cooler
Oil filter — RH
Oil pan
Oil sampling valve
Turbo oil accumulator
Power Take-Offs
Front housing — two-sided
Front lower — LH accessory drive
Torsional Vibration Analysis
Provided through Caterpillar
General
Paint — Cat yellow
Crankshaft vibration damper and guard
Optional Equipment
Air Inlet System
Charging System
Battery chargers
CSA certified version available with
Cooling System
Mechanical joint assembly connections
Exhaust System
Flexible fittings
Elbows
Flanges
Fuel System
Instrumentation
Advisor display panel
Communications module
Lubrication System
Lubricating oil
Oil bypass filter
Air prelube pump
Power Take-Offs
General
EU Certification
Support