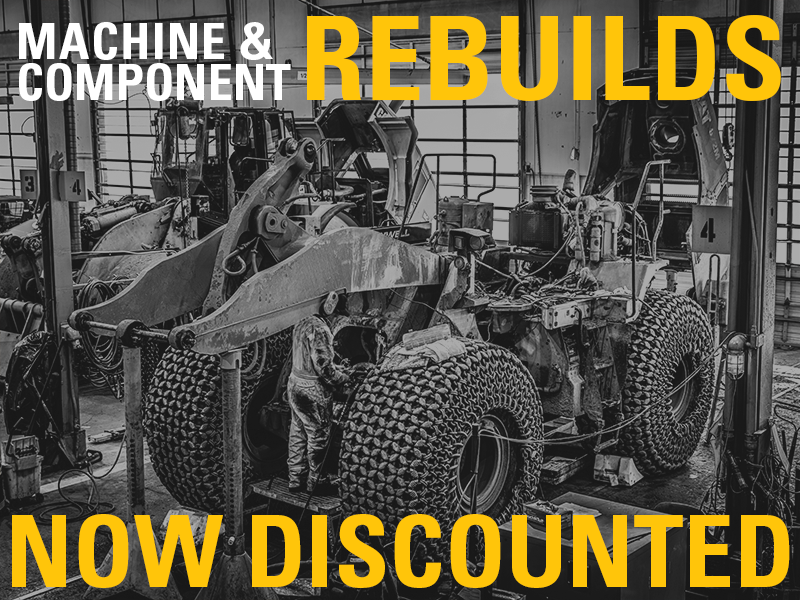 NEW DISCOUNTS AVAILABLE FOR QUALIFYING MACHINE AND COMPONENT REBUILDS. 
OFFER VALID JANUARY 1 – DECEMBER 31, 2023
Curious about what discounts your qualify for? Contact us and ask about machine rebuild pricing and to be connected to a support rep! We'll be happy to get you set up and start talking about potential component or machine rebuilds in your future!

Inquire with Tractor & Equipment Co. today
To learn more about the content on this page, click the button below and your inquiry will be directed to the appropriate department.
Learn More
To qualify for the credit, eligible rebuilds must meet the following parts minimums per machine or engine serial number:
$1 for any hydraulic repairs or rebuilds
$1,000 for Paving rebuilds (In-shop and OTC invoices eligible)
$1,000 for CCE, BCP and/or Forestry rebuilds
$5,000 for all GCI and other equipment model rebuilds
Dealer and Certified Rebuilds (CCR, CPT, CHR, and CMCR) and are eligible to be claimed under this program in addition to component repairs if the minimum parts consumption thresholds included in the program conditions are met.
For CCE, BCP, Forestry and GCI equipment models a minimum of 35% of the parts on the invoice must be Drive Train and/or Engine related (major class 2 or 5) in order to qualify for program usage. The only exception to this is for Paving equipment or Hydraulic repairs or rebuilds.
Major reman components such as complete engine (including short/long block), or transmission, can be claimed ONLY when used as part of a complete machine or powertrain rebuild. Discounts do not apply to Reman core chares. Program usage is not eligible for parts stocking or a single component sale to user.
© 2022 Caterpillar. All rights reserved. CAT, CATERPILLAR, their respective logos, "Caterpillar Corporate Yellow", the "Power Edge" and Cat "Modern Hex" trade dress as well as corporate and product identity used herein, are trademarks of Caterpillar and may not be used without permission.
Some restrictions apply. Subject to change without notice. Offer only good in Tractor & Equipment Co. territory. 
Share Offer