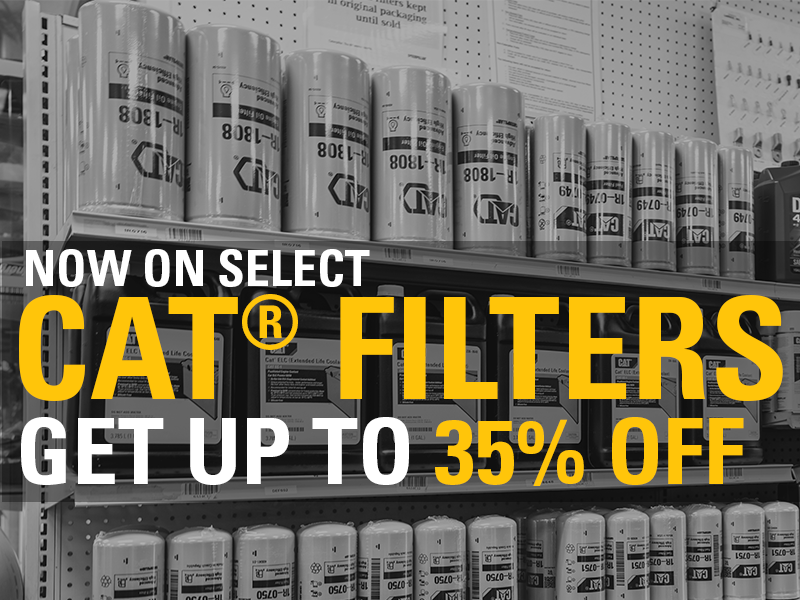 OFFER VALID JANUARY 1 – DECEMBER 31, 2023
Now at Tractor & Equipment Co. receive up to 35% OFF your filters when you complete registration for a Cat® Account on parts.cat.com! Click here to register, follow the steps below and receive a promocode once your account finalizes*. 
Create an account in just four steps, and receive your discount code in five!
1) Select a local Cat dealer store
2) Create a local dealer profile
3) Verify your email address
4) Create your Caterpillar account
5) Once your account has been finalized, we'll send a promocode for 35% off filters to the email associated with your account within 1-2 business days. 
*Some restrictions apply. Offer is only valid in Tractor & Equipment Co./NC Machinery territories. Promocode only valid on parts.cat.com, promocode is intended for customers new to parts.cat.com and CANNOT be combined with any other offers or used with accounts that already receive relevant discounts. Doing so may result in the extra discounted amount being billed to your account. Accounts found to be child accounts of already existing managed accounts with be denied a promocode. Must create Cat® Account and verify email before registration can be finalized and promocode sent. 
Have questions? Ask for a support rep below!

Inquire with Tractor & Equipment Co. today
To learn more about the content on this page, click the button below and your inquiry will be directed to the appropriate department.
Learn More
PROGRAM NUMBERS:NAT-PR-4 / 3133 (US) 
1. This program is eligible for Multi-year support of parts included in Customer Value Agreements (CVA) with terms of two (2) years or more for the Initial Term of the CVA. Any changes to this program must consider the impact to current CVAs and may require additional action in accordance with the CVA Support Guideline: Multi-year Sales Variance [CVA-G01].
2. NAT-PR-4 can be combined with the following program: Product Support Finance Programs (NAT-MLP-4548).
3. This program is restricted from use on GCI Corporate Account or National Account customers, without prior approval from Caterpillar ASR and Managed Accounts Aftermarket Services Manager. There are designated programs for GCI Corporate Accounts and National Accounts providing the negotiated and agreed upon discount level contained in each eligible customer's Memorandum of Understanding.
© 2022 Caterpillar. All rights reserved. CAT, CATERPILLAR, their respective logos, "Caterpillar Corporate Yellow", the "Power Edge" and Cat "Modern Hex" trade dress as well as corporate and product identity used herein, are trademarks of Caterpillar and may not be used without permission.
Offer cannot be combined with any other discounts. Some restrictions apply. Subject to change without notice. Offer only good in NC Machinery territory.
All purchases must be made on Parts.Cat.Com.
Share Offer