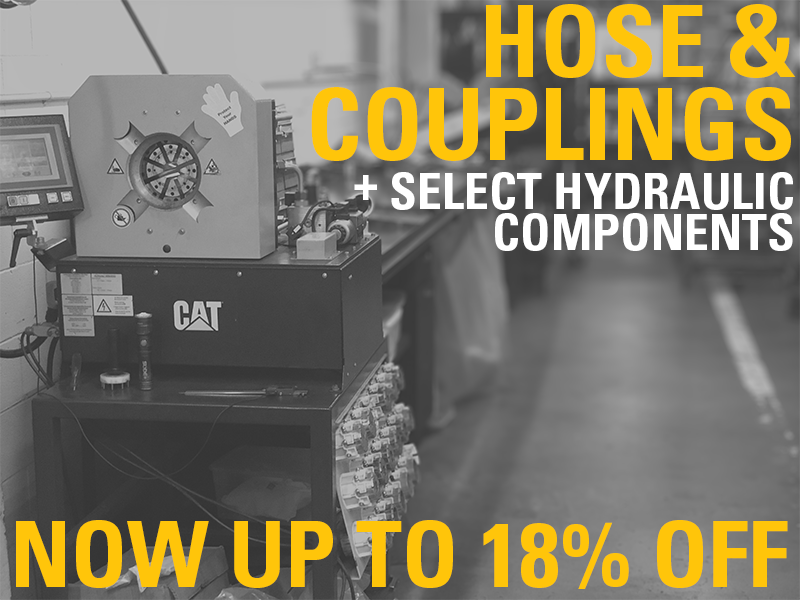 OFFER VALID JANUARY 1 – DECEMBER 31, 2023
Now at Tractor & Equipment Co. receive up to 18% OFF your hose and couplings when you complete registration for a Cat® Account on parts.cat.com! Click here to register, follow the steps below and receive a promocode once your account finalizes*. 
Create an account in just four steps, and receive your discount code in five!
1) Select a local Cat dealer store
2) Create a local dealer profile
3) Verify your email address
4) Create your Caterpillar account
5) Once your account has been finalized, we'll send a promocode for 18% off hose and couplings to the email associated with your account within 1-2 business days. 
*Some restrictions apply. Offer is only valid in Tractor & Equipment Co./NC Machinery territories. Promocode only valid on parts.cat.com, promocode is intended for customers new to parts.cat.com and CANNOT be combined with any other offers or used with accounts that already receive relevant discounts. Doing so may result in the extra discounted amount being billed to your account. Accounts found to be child accounts of already existing managed accounts with be denied a promocode. Must create Cat® Account and verify email before registration can be finalized and promocode sent. 
Have questions? Ask for a support rep below!

Inquire with Tractor & Equipment Co. today
To learn more about the content on this page, click the button below and your inquiry will be directed to the appropriate department.
Learn More
PROGRAM NUMBERS:NAT-HYD-3488 (US)  
Program available for Global and Corporate Accounts (Managed Accounts). Program not stackable with other Managed Accounts programs, and it is NOT part of Framework Agreement commitments
Program cannot be stacked with REBUILD program: NAT-MLP-5656
This program can be combined with NAT-MLP-4548 (2022 CI/E&T: Product Support Finance Program US)
This will contain all the hydraulic PPCs from the CI Rebuild Program (which is all hydraulic PPCs except for expanded mining).   Includes new and Reman groups and piece parts.
Caterpillar reserves the right to modify or cancel this program or audit claims submitted against this program at any time. Claims must contain complete, valid and accurate information in order to be processed. Claims requiring internal review by Caterpillar may result in delayed payments. Caterpillar reserves the right to request additional information and audit claims as needed.
© 2022 Caterpillar. All rights reserved. CAT, CATERPILLAR, their respective logos, "Caterpillar Corporate Yellow", the "Power Edge" and Cat "Modern Hex" trade
dress as well as corporate and product identity used herein, are trademarks of Caterpillar and may not be used without permission.
Offer cannot be combined with any other discounts. Some restrictions apply. Subject to change without notice. Offer only good in NC Machinery territory.
All purchases must be made on Parts.Cat.Com.
Share Offer